China is calling for the US to immediately stop sanctions on many of its companies, because of their business relationship with Iran.
On November 13, China requested that the United States immediately suspend sanctions against Chinese companies, which currently have business relationships with Iran, amid growing tensions between Washington and Tehran.
Last Friday, the administration of US President Donald Trump imposed new sanctions on Iran, after missile attacks on US bases in Iraq.
The latest sanctions that the US has launched are thought to be designed to target Iran's basic economic sectors (steel production, oil, apparel). Many Chinese companies that are doing business with Iran are also involved.
China's Foreign Ministry has called U.S sanctions wrongdoing and said China's trade with Iran is legal and should be respected.
In a speech, Chinese Foreign Ministry spokesman Geng Shuang said Beijing strongly opposed unilateral sanctions and asked the US to immediately stop punishing Chinese companies with Iran.
China and Iran cooperate on a lawful basis and in compliance with the law, without prejudice to the interests of third parties. Therefore, this relationship should be respected and protected.
China requires the US side to immediately stop wrongdoing when punishing our companies. We will resolutely protect the legal interests of Chinese companies, Geng Shuang said.
China's furious reaction came after, on January 12, in an interview with Fox News, US Treasury Secretary Steve Mnuchin said that China also had to suffer sanctions like every other country (having business relations with Iran).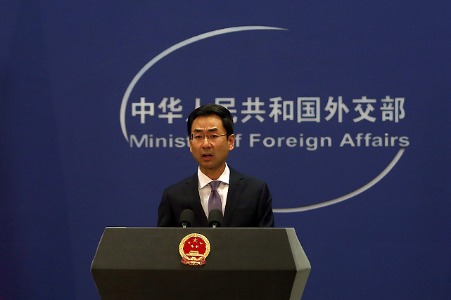 We have punished several Chinese shipping companies involved in Iranian oil production. We will continue to implement sanctions against China and any other country in the world doing business with them (Iran), Steve Mnuchin said in an interview.
China has long been the largest trading partner and one of Iran's largest oil importers. The business relationship between China and Iran has been more closely scrutinized by the United States since Trump announced his withdrawal from the nuclear deal with Iran, in May 2018. US tensions with Iran have been pushed up recently, which has indirectly caused the Chinese economy to suffer joint sanctions with Iran.